Pet Portraits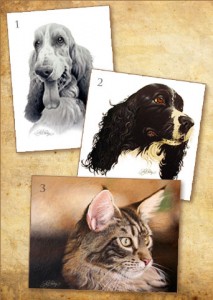 Pet Portraits & Pet Artwork
This type of commission can be accomplished in several forms. Using any pose, or layout composition, art can be created in a sketch, a quick painterly study, or a full painting. Examples of which are demonstrated on this page. Although all of the examples shown only depict head and face images, the same level of endeavor and involvement can be translated into full animal forms, groups, or more elaborate layouts, containing furniture, plants, rugs & pillows, etc.
Photography & Reference
Whenever possible, I choose to take my own reference photography, if that is not possible, then a series of very clear digital images are required. Hopefully these images will depict the animal(s) in a pose(s) similar to what is desired in the final painting, along with images of any additional elements desired in the painting.
Pricing
Pricing is done on a case, by case basis* with payment of the agreed upon price accomplished in thirds – one third at time of commission, one third at time of approval of final sketch and one third upon completion and delivery of work. Examples of each commission are displayed to your left. Typically the "starting points" for pricing for these types of commissions would be as follows:
1.Sketches – from $250
2.Quick Head Studies – from $500
3.Full Paintings – from $850-1000
*These figures are examples and all final pricing will be arrived at on a case by case basis.